Microneedling in Franklin, TN
Microneedling Services in Franklin
You deserve to be pampered, and your skin does too! Microneedling is a non-surgical, minimally-invasive treatment that continues to grow in popularity for its accessibility and incredible results. If your skin feels dull and needs rejuvenation, book your appointment for microneedling in Franklin, TN!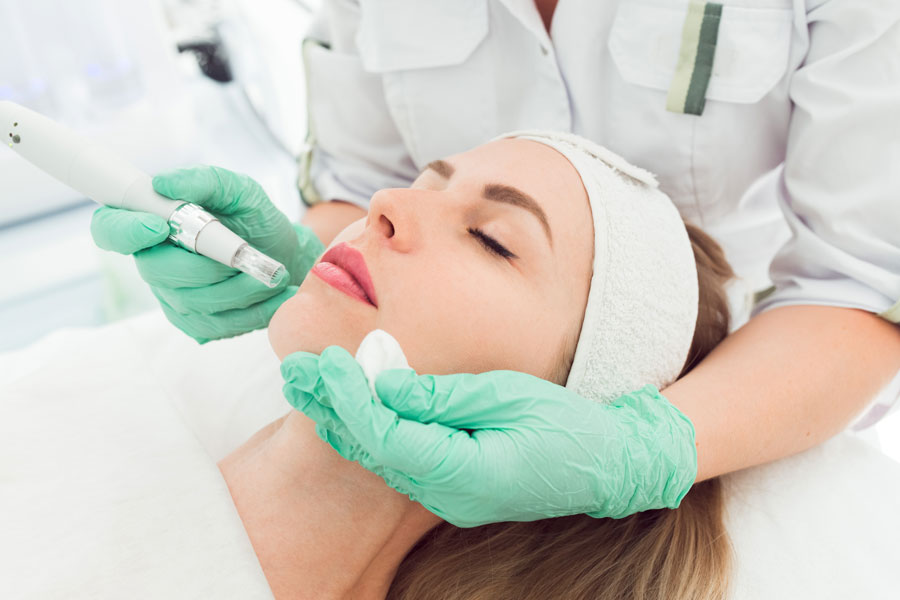 Microneedling is a minimally-invasive procedure that uses tiny needles to create micro- 22 injuries in your skin. These injuries stimulate your skin to generate new collagen and elastin, which improves the overall health, tone, and texture of your skin. Collagen is a vital protein that plays a critical role in both the health of your skin and wound healing. Once your brain registers the micro-injuries as wounds, the new production of collagen and elastin begins. Collagen and elastin improve your skin's strength and elasticity, which start to deteriorate as you age. Microneedling also helps create channels in your skin for more effective delivery of topical treatments, like customized creams and serums, allowing for deeper penetration.
Microneedling is a safe, non-surgical procedure we perform in-house at our skin studio. The treatment is short and only lasts between 30 and 60 minutes. Before we begin, we cleanse your skin and apply topical numbing to increase your comfort. Our skin specialists then use a specialized device to deliver tiny punctures to your skin. These punctures force your body to produce new collagen, leading to brighter, healthier skin.
Once the procedure is finished, you may have some slight redness, which goes away within a day or two. Most clients resume their everyday routines immediately after their procedure. After treatment, avoid sweating and harsh skin care products or exfoliation for a few days, so your skin has time to heal. You should also be vigilant about SPF and avoid sun exposure since your skin is particularly sensitive and vulnerable to damage while it's healing.
Feel and See the Difference
Microneedling offers nearly instant results that you can see and feel. You'll experience various short and long-term benefits, including:
Microneedling helps your skin heal and improve, addressing a variety of skin issues through a single treatment but typically requires a series of treatments for desired results. It can also be combined with other anti-aging or skin-rejuvenating treatments to further enhance results.
At Franklin Skin Studio, we customize our treatment plans for each client to help you achieve the luminous skin you've always dreamed of.
Book Your Microneedling Treatment in Franklin, TN Today
Microneedling is a cutting-edge treatment that encourages healthier, brighter, younger- 24 looking skin by healing your body from the inside out. By increasing new collagen and elastin production in your skin, you'll notice dramatic improvements to your skin's tone, texture, and health. Treat yourself to some pampering at the best spa in Franklin! We'll work with you to address your concerns and help you achieve your skincare goals, whether it's revitalizing your skin, reducing fine lines and wrinkles, or fading acne scars. Contact us today to book a microneedling procedure in Franklin, TN.
Do You Offer Microneedling Near Me?
We offer microneedling in Franklin, TN, at our studio located at [230 1st Ave S Franklin,TN 37064]. Our hours of operation are:
| Day | Timing |
| --- | --- |
| Sunday | Closed |
| Monday | 8-5 Pm |
| Tuesday | 8-5 Pm |
| Wednesday | 8-5 Pm |
| Thursday | 8-2 Pm |
| Friday | 8-4 Pm |
| Saturday | 10-2 Pm |
To schedule a consultation, contact us at
615-509-4730
or visit us online today!
How Do I Know I Should Book a Microneedling Procedure Near Me?
Because microneedling is non-surgical and minimally invasive, it's a good treatment for 25 just about anyone in need of some TLC. If you're dealing with acne, acne scars, fine lines and wrinkles, uneven skin tone, or poor skin texture, microneedling can help improve your skin's health and appearance.
How Much Should I Expect to Pay for a Microneedling Facial Near Me?
The price of microneedling will depend on the size of the treatment area and how many treatments you need to achieve results. The average session for our microneedling in Franklin, TN costs around [$300].
How Long Does It Take to See Results?
You won't see the results of microneedling immediately, but do not be discouraged! It will take a few weeks for the new production of collagen and elastin to kick in. Most clients notice a visible improvement in their skin within 4 weeks, with optimal results visible around the six-week mark.
One of the best things about microneedling is that it's a gift that keeps on giving. You'll see new and improved skin with each and every day. You can support your results by staying disciplined with your treatment routine, following a healthy diet to support your skin's health, and using the right skin care products, especially SPF. You can also improve results by booking customized facials, chemical peels and more.